Privacy Room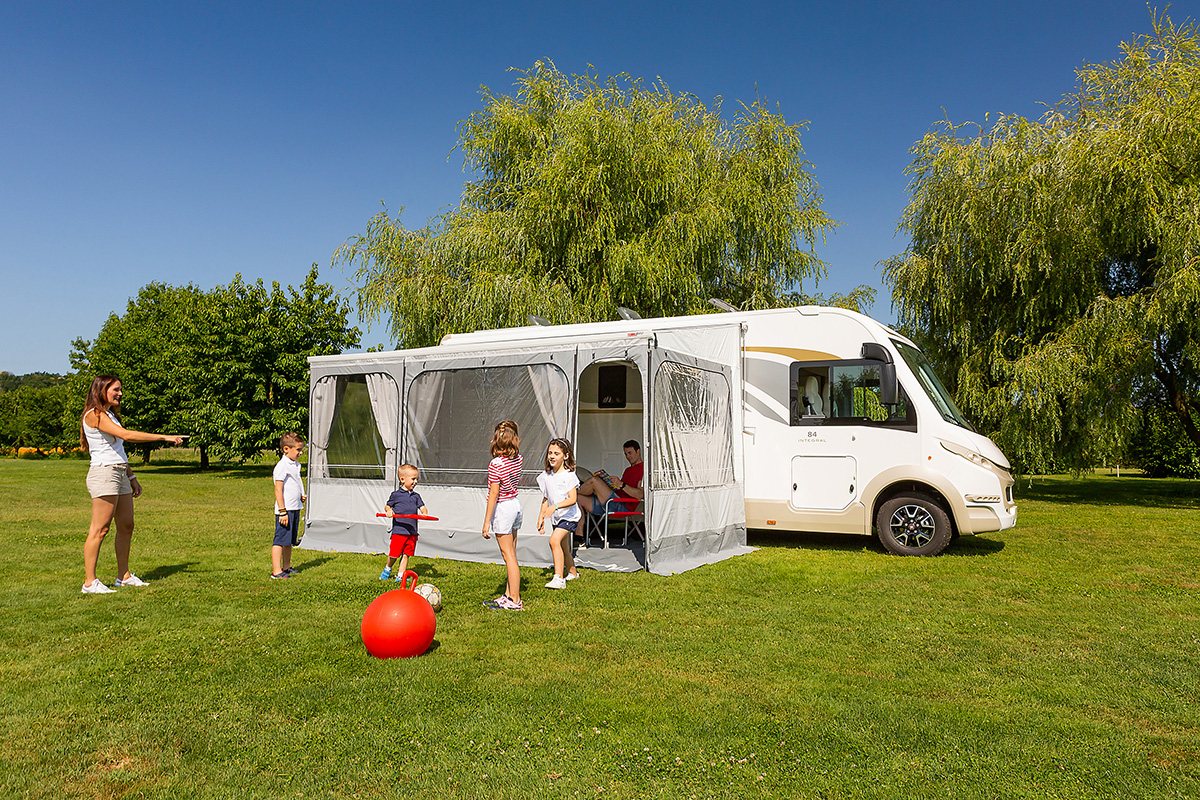 In fifteen minutes you double the space available for your family
With a Privacy Room you transform your awning into a comfortable living area and make more space available for the entire family. The widened windows, rounded forms and the insertion of grey tones make the product more elegant and modern. The quality materials and the extremely resistant structure guarantee the functionality and sturdiness of the product already appreciated by campers.

Delivered as standard with
• 1x front panel with door and window with mosquito net
• 2x side panels with windows with mosquito net
• 1x curtain kit for all the windows of the enclosure
• 1x Fast Clip installation kit (2+2 aluminium tension poles)
• 1x Kit elastic ropes with quick hooks
• 1x Mega Bag, dim. 140x27x40cm.
Awning
Privacy Room is designed for F45s, F70 and F45L awnings. F80s, F65s and F65L only if installed on Fiat Ducato after 06/2006 or Caravan. It also fits perfectly to the Omnistor 5002, 5003, 4900 and Tristor 2.
Windows
Front and side panels are composed of openable Crystal windows equipped with mosquito net. High velcro layer for a safe closing of the window.
Structure
Fast Clip, for a safe, quick and easy installation. The system works with the principle of the two profiles hinged with the spring-system Quick Lock and fastened in the Sandwich way. Made of anodized aluminium. The anti-wind support Magic Privacy is optionally available for perfect stability of the enclosure.
Colours & Materials
UV resistant, waterproof and washable vinyl fabric, colour: white and grey. Front Panel Front panels are interchangeable. This means that door and window can be mounted on either the left hand side or on the right hand side
Easy installation
The side panels are quickly put together with the exclusive patented Fast Clip that combines the canopy with the side walls.
No other fixing system is as stable as the Fiamma Fast Clip.
A protective sponge is fitted, vertically, on the back part of the side panels along the support pole to guarantee a close fit.
The front panel is inserted in the front rail of the awning and is joined to the side panels through zippers.

Models and dimensions
Privacy Room F45
Privacy Room Van 260
Privacy Room 300

Privacy Room 350

Privacy Room 400
Articles
| | | |
| --- | --- | --- |
| Item | Description | Price |
| 08366-01- | Privacy Room 260 Van | $1,738.00 |
| 08366A01- | Privacy Room 300 Medium | $1,735.00 |
| 08364B01- | Front Panel 50 (add to 08366A01- for F45S 350) | $80.00 |
| 08364H01- | Front Panel 150 (add to 08366A01- for F45S 450) | $226.00 |
| 08368-01- | Privacy Room 300 Ducato | $1,814.00 |
| 08364-01- | Front Panel 20 (add to 08368-01- for F80S 320) | $73.00 |
| 08364C01- | Front Panel 70 (add to 08368-01- for F80S 370) | $103.00 |
| 08364E01- | Front Panel 100 Front Panel 100 (add to 08366A01- for F45S 400) / (add to 08368-01- for F80S 400) | $158.00 |
Mentioned prices are suggested retail prices, Vat, Installation, Duties and Transport cost excluded.
Description
Vehicle type
Awning length A
Height from ground B
Extension C
Weight
Privacy Room 260 Van
Volkswagen T5
260 cm
180-220 cm
200 cm
52.2 lbs
print
Privacy Room 300 Medium
300 cm
225-250
250 cm
51 lbs
print
Front Panel 50 (add to 08366A01- for F45S 350)
1.8 lbs
print
Front Panel 150 (add to 08366A01- for F45S 450)
3.75 lbs
print
Privacy Room 300 Ducato
ProMaster
320 cm
245 cm
250
51 lbs
print
Front Panel 20 (add to 08368-01- for F80S 320)
0.9 lbs
print
Front Panel 70 (add to 08368-01- for F80S 370)
2.2 lbs
print
Front Panel 100 Front Panel 100 (add to 08366A01- for F45S 400) / (add to 08368-01- for F80S 400)
3.3 lbs
print