Rail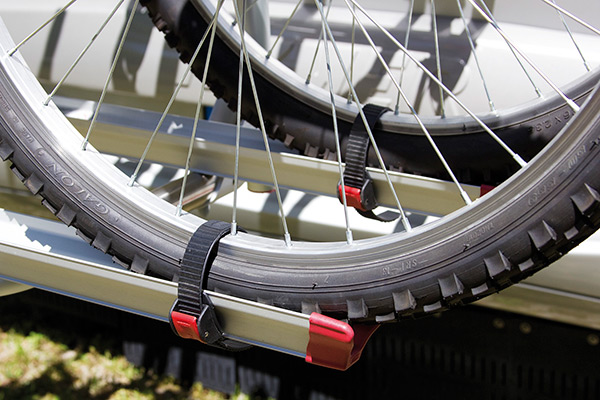 title_product_description
Rails for transporting and fixing any kind of bike
It's easily installed on bike carriers of any brand and fit most diameters of wheels of the market.

Write a review
Your Review:
Rating:
Bad
Good
Enter the code in the box below:
Models
RAIL PREMIUMRefreshed design of the Premium Rail guide with new bicycle support block. If you wish to transport electric bikes, Fiamma recommends that you choose the Carry-Bike models specifically designed and developed for E-Bikes fitted with Rail Premium.
It is possible to transport a maximum of 2 electric bicycles on a Carry-Bike, we also recommend that the Rail Premium are placed close to the wall of the vehicle, and we suggest removing the batteries of the electric bikes for to limit the weight on the wall itself.

Rail with increased structure complete with sliding wedges and incorporated Quick straps to easily secure the wheels of the bike. Suitable for most diameters of bike wheels. Ideal for installation on the motorhome garage floor.
Two models available:
• Rail Premium - The restyling of the product has made it even easier and more practical to use. We have eliminated the adjustment and fastening handwheel. Just place the bicycle wheel in the strap and in combination with the rubber support, it will securely lock the bicycle on the rail.
• Rail Premium XL - The XL version is longer (139cm) and suited for particularly long E-Bikes and Mountain-Bikes (with wheelbase > 125cm).
Item
Description
Price

98656-993

Rail Quick Pro
$61.00

98656M131

Rail Premium
$73.00

98656M150

Rail Premium - Deep Black
$91.00

98656M132

Rail Premium XL
$94.00

98656M153

Rail Premium XL - Deep Black
$103.00

98656M146

Rail Premium S Fat Bike
$131.00

98656M151

Rail Premium S Fat Bike - Deep Black
$141.00

98656M134

Kit Premium S
$50.00

Mentioned prices are suggested retail prices, Vat, Installation, Duties and Transport cost excluded.

* Available on request the blue (Item No. 98656-328), black (Item No. 98656-098) and grey (Item No. 98656-327) versions. Ask your retailer for availability and delivery time.