F45s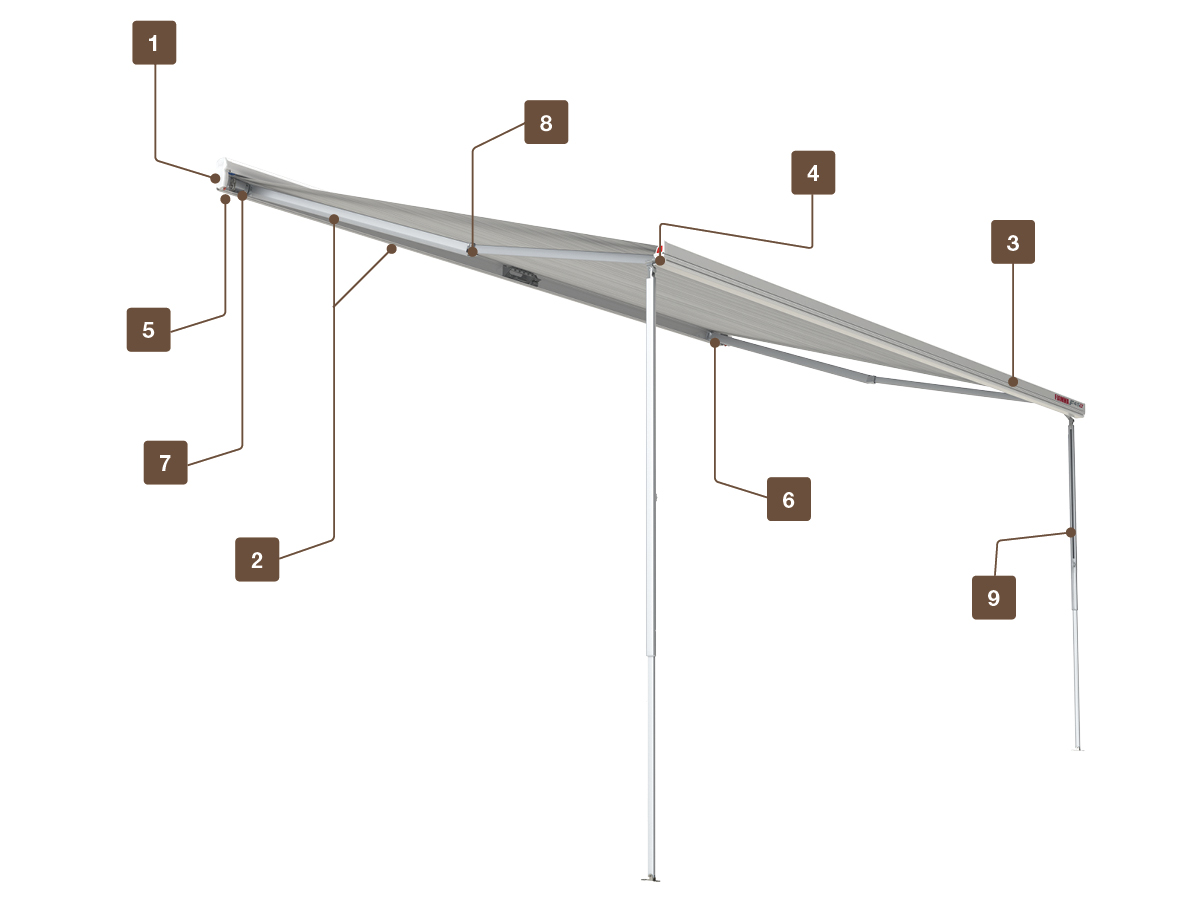 title_product_description
The innovative and compact awning of Italian design
The easy-to-use and simple to install awning which joins todays best technologies, service and quality! Constantly renewed, the F45s awning is compact and functional, making it the best choice for your holidays! When not in use, the F45s takes up little space while snuggly enclosed in its aluminium case. It is sturdy and safe to operate, with an easy-to-hook winch loop.
Features
[1]
Installation Brackets:
standard adapters (provided with the awning) and more than 90 personalized brackets enable the mounting on special profiles
[2] LED:
many models and LED solutions to illuminate evenings under the awning
[3] Double Guide:
double guide on the lead bar allowing the installation of two front panels
[4] Perfect Closing:
fast and silent opening and closing thanks to the Auto-Lock safety system and perfect closing thanks to Dual Security device
[5] Presto Fix:
adjusting system that enables you to gauge the closing of the lead bar to guarantee a perfect closing over time
[6] One Way Roll:
rolling the fabric only in the correct direction, thanks to Fiamma's patented system
[7] Dual Shock Absorber:
patented shock absorbing bracket with dual bolt system to protect the awning and the vehicle during bad weather
[8] Extra Strong Arms:
strong reinforced articulated arms with double steel cable that allows you to maintain an optimal fabric tension
[9] Secure Lock:
the legs can be fixed to the ground or to the wall and the height of the lead bar can be adjusted with a telescopic safe and practical system
Write a review
Your Review:
Rating:
Bad
Good
Enter the code in the box below:
Selection guide
Vehicle
Perfect for any vehicle from large motorhomes to camper vans.
OperationWinch opening and closing. Operation by handle. Electric motor optional.
PositionDesigned for wall installation. Delivered with standard installation brackets. Special adapters optional available.
Awning enclosure Optional Privacy Ultra-Light, Privacy Room, Privacy Room Light, Blocker and Side.
Colors & MaterialsCase: in extra strong extruded aluminium. Very light yet highly resistant external coating in either Polar White, Titanium or Deep Black.
Cool and cheerful vinyl canopy. UV resistant, waterproof and washable, with bright colours on both sides.
Standard fabric color: Royal Grey. Royal Blue offered in most sizes of White and Titanium awnings.
Item
Description
Price

06280H01R

F45s 260 - Polar White
$823.00

06280A01R

F45s 300 - Polar White
$884.00

06280B01R

F45s 350 - Polar White
$968.00

06280C01R

F45s 400 - Polar White *
$1,062.00

06280G01R

F45s 450 - Polar White *
$1,257.00

06290H01R

F45s 260 - Titanium
$851.00

06290A01R

F45s 300 - Titanium
$913.00

06290B01R

F45s 350 - Titanium
$1,001.00

06290C01R

F45s 400 - Titanium *
$1,091.00

06759H01R

F45s 260 - Deep Black
$878.00

06759A01R

F45s 300 - Deep Black
$928.00

06759B01R

F45s 350 - Deep Black
$1,032.00

06759C01R

F45s 400 - Deep Black *
$1,124.00

Mentioned prices are suggested retail prices, Vat, Installation, Duties and Transport cost excluded.

* 1 Tension Rafter made of anodized aluminum included

Standard fabric color: Royal Grey. Royal Blue offered in most sizes of White and Titanium awnings.